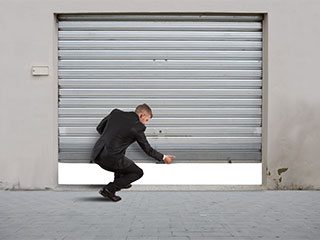 It's important to ensure your garage door is properly insulated, as it can cut back on your household's energy bills, and provide you with a more comfortable living environment. However, there are several different types of insulation to choose from, and it can be difficult to know whether you need reflective foil, polystyrene paneling or something else entirely.
Here's What You Need To Know
There are a few key points to bear in mind when choosing insulation for your overhead door. Let's start with R-Value. The higher a material's "R-Value" is, the better it is at insulating. The greater the difference between inside and outside temperatures, the higher this should be. As for weight, if you make your door too heavy for your opener it will struggle to move it. Check the rating of your horsepower output to find out how much insulation you can add. Any gaps in your insulation will severely impact its capability, so you need to choose materials that you know will fit perfectly and can be easily installed, even if they have a slightly lower R-Value.
The Reflective Foil Option
This type of insulation comes in a thick roll, and consists of a polystyrene and foil "sandwich". It is cheaper and doesn't weight a lot, but isn't as good at retaining heat as polystyrene. Typically, reflective foil insulation isn't as effective as thicker materials but it's very flexible and easy to work with, so many homeowners tend to prefer it.
Polystyrene Board Insulation
This is a much thicker type of insulating material, and is very robust. However, while it might provide excellent insulation and prevent heat transfer, it is also much harder to work with than foil, and is substantially heavier, which means your opener and springs will need to be able to support the added weight.
Fiberglass/Plastic Panel Kits
Many door manufacturers supply panels of polystyrene, plastic and fiberglass insulation that can fit perfectly onto their garage door models. These are far relatively easy to install and require much less work, but are more costly than plain boards, and also increase the weight of your door.
Pre-Installed Insulation Material
Many modern garage doors come with insulation already installed. This is a great option if you're looking to replace your existing door with a new modern option, because it guarantees an excellent fit. Take a look at some of the industry-leading models from brands like Raynor, Clopay and Amarr for examples of what to expect. Our experts at Garage Door Repair Citrus Heights will be happy to help you find the perfect model for your home.