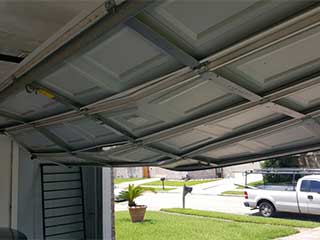 Our maintenance service is designed to help you ensure your door functions well for many years to come. We know that the safety of your family and friends is paramount, and that's why we provide safety tests for all of our customers as a part of our regular garage door maintenance. While garage doors are incredibly useful and allow homeowners to quickly enter and exit their home without having to leave their cars, when they are not installed properly or haven't been adjusted recently they can pose a huge safety hazard for anyone using them.
The Sensitivity Matters
If a garage door is closing and hits something, it should automatically open back up again. This is important because if a small child, animal, or an adult has fallen under the door and can't get out of the way in time, they will not be injured. These doors are incredibly heavy and can cause major physical harm if they were to continue to go down on someone. Our team of experts will check the safety status of your sensors and make sure that the door automatically reverses if it comes into contact with something while closing.
Are the Springs Safe?
The springs are one of the most important yet dangerous parts of your garage door, and it's important that they are both installed correctly and kept in great condition so they are not in any danger of breaking. If a spring were to break and hit someone, it could cause a lot of bodily harm. This is why we check the strength and condition of your springs when we perform garage door maintenance and provide lubrication there and then if needed.
Other Garage Door Maintenance Services
During a full system examination, we'll check other components of your garage door too such as the condition of the track, the opener, and the wiring. Any issues that our professionals uncover will immediately be taken care of to ensure you and your family's safety.
While you can't plan for everything, you can do your best to protect those around you by making sure your unit works the way it should. Call us at Garage Door Repair Citrus Heights today to set up an appointment and enjoy the safety of a well-maintained unit well into the future.
Couldn't find what you're looking for? We also offer:
Garage Door Tune Up Services
Belt Drive Garage Door Openers
Galvanized Torsion Spring Replacement