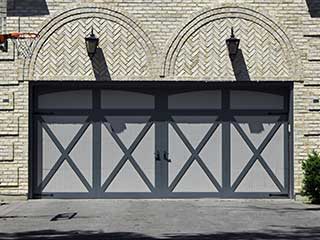 When you need to have a malfunctioning component fixed or to deal with cumulative damage which your door has sustained over time, turn to Garage Door Repair Citrus Heights. Our local company is available to repair springs, openers and panels and to replace them if needed. We provide emergency assistance in addition to scheduled services. With us, you will receive the perfect solution regardless of your door or electric operator's type or brand. You can count on us for professional installation and maintenance services to give you brilliant performance and a high level of safety and security.
Expert Solutions from Leading Specialists
We know everything there is to know about automatic doors and how to deal with any problem affecting them thanks to our many years of operating in the field. If your door is jammed, for instance, you can rely on us to repair the bent track causing the problem in the shortest possible time. In case you have lost your remote, we will replace it with a new one and program it for you. Our highly qualified technicians are some of the best in California, using top-quality replacement components and advanced tools.
Full Range of Spring Services
Do you have a broken extension or torsion spring? Count on us to replace it in the shortest possible time. Rest assured that we have the ideal new spring for your door in terms of size and lift. You can expect the new component to work smoothly and to have a long useful life. You can rely on us for spring adjustment too. If there is too much tension in the torsion spring and the door is hard to keep closed or if it is too little and opening takes ages, we'll reduce or increase the tension with unwinding or winding accordingly. With perfect precision, you will have a smoothly working door at all times.
Outstanding Opener Repair and Replacement
Does the motor make a grinding noise? Count on us to fix it perfectly by replacing the broken moving gear. Is the opener failing to start with any of the controls? We'll get down to the core of the problem and eliminate it no matter if the solution involves fixing the motor or replacing the circuit board. You can rely on us to deal with all kinds of opener emergencies, including a failure of the safety sensors. We'll replace them with new ones in no time and test the new devices to confirm that you will get the maximum safety.
Dependable Local Service Provider
We are familiar with and the local needs and troubles of residential garage door owners. That is why our technicians can implement the best solutions quickly. Whether there is a need for replacing a snapped cable or repairing a damaged panel, we'll restore them to their original condition and get your door working again in no time. You can hire us to provide ongoing maintenance to your unit and to replace it with a new one when the time comes.
With our experts at Garage Door Repair Citrus Heights, you get quick and reliable repair and replacement services for affordable prices. You can count on us for new door and opener installation and maintenance, any day of the week.
A Trustworthy Company
Highly Skilled Technicians
Top Quality Replacement Parts
Discounts and Special Offers