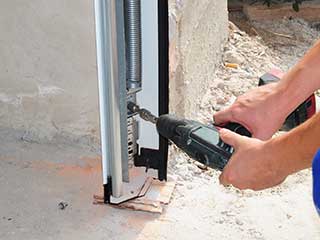 Almost everything is bound to suffer damage at one time or other and this includes garage doors. This can result from wear and tear from prolonged use, rust, accidents, misuse, abrasion, corrosion, etc. Well, regardless of the cause of the impairment, you can trust our team of professionally trained experts to assist you. Want to know more about our garage door repair services? Read on!
Replacing Hinges
If your hinges are bad, it can be impossible to use your door. Garage door hinges are crucial to the structural integrity of your door as they hold it together. To prevent any damage to your panels and ensure optimal function, your hinges should be inspected for signs of stress fractures, cracks, popping or snapping sounds, which are usually signs that your hinges need to be repaired or replaced. Give us a call and we'll help you sort it out.
Openers and Receivers
All automatic doors have parts like openers and receivers that are prone to damage that could result from a number of factors such as prolonged use, bimetallic deterioration (an electrochemical process which happens when electrified metals are in contact with one another), power surges, lightning, and worn parts. One or a combination of these factors can weaken its condition. Give us a call if you are in need of repair services for your opener or any of its associated components.
Making your door open correctly
If your garage is opening very slowly or awkwardly, our team of experts will be glad to help you correct it. Often this can point to the need for repairs or replacement of one or more parts. Whatever the cause of this unusual behaviour, we can make sure it doesn't repeat.
Contact us for More about Garage Door Repairs
For further details on how our technicians can assist you with all manner of garage door repairs, contact a consultant from Garage Door Repair Citrus Heights today.
Looking for more? We also offer:
Garage Door Opener Maintenance
Remote Opener Clicker Replacement
Extension Spring Adjustment
Track Replacement & Repair