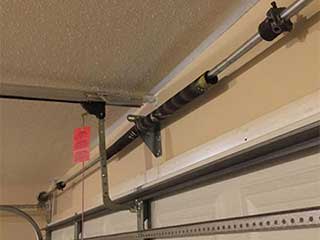 If your springs aren't working properly, it can do more than make your door inoperable, it can also cause damage to other parts of the system, not to mention pose a serious safety risk to you and every member of your household. These components are much more important than many people give them credit for, so if they suddenly break you should seek professional assistance immediately. Never attempt to handle these situations by yourself. The dangers involved can lead to catastrophic results, and springs should therefore only be tended to by professional technicians.
What Can Our Experts do?
When it comes to maintaining, repairing, and replacing your garage door springs, our experts have a great wealth of experience to draw from. Our team knows how to recognize when a spring seemingly looks fine but is actually close to its breaking point, or when simple lubrication is in order.
Why Is Lubrication Important?
This type of maintenance is particularly crucial, as it can ensure the longevity of these crucial components, as well as their optimal operation. This is possibly the main way to keep your springs quiet too, and we always make sure to open and close the door a couple of times after we apply the lubrication, in order to test them out.
Spring Adjustment
Over time, the gradual wear and tear springs go through – as well as the seasonal changes in climate and temperature – can make these components require some adjustment. This can prevent your door from tilting and possibly even falling off in the most extreme circumstances. As soon as you notice a problem, get in touch with us. The adjustment procedure is very dangerous and should only be performed by professionals.
Contact us today
Our team at Garage Door Repair Citrus Heights consists of highly trained experts who can repair or replace springs of any type. We work quickly and efficiently, and we always adhere to the strictest safety regulations. Give us a call today.
In addition, we offer:
Garage Door Safety Inspections
Genie & Liftmaster Opener Services
Torsion & Extension Spring Replacement
Roll Up Garage Door Services